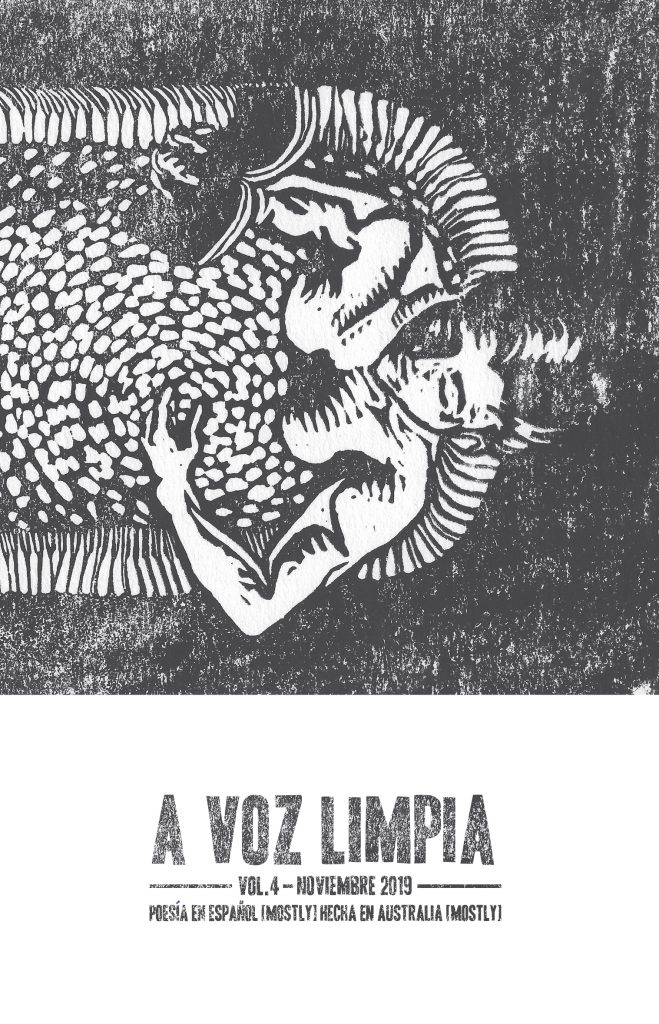 El 15 de noviembre de 2019, A Voz Limpia se reunió para lanzar su cuarta antología (y octave publicación) A Voz Limpia Vol. 4, con textos de 50 voces, portada de Karina Aedo e introducción de Gabriella Munoz.
Adquiérelo
«Every month, the editors and co-founders of A Voz Limpia, Pilar Aguilera and Eyal Chipkiewicz, host an open mic night that showcases the work of writers, many of whom have a connection with Latin America. Migrants, students, university lecturers, poets, essayists, writers, musicians, and those who enjoy listening to good yarns get together in Fitzroy to hear and share stories in Spanish, English, Portuguese and sometimes in Creole, West Papuan, Italian and other languages.
It takes a lot of courage to stand onstage for two or three minutes (sometimes longer), reading out loud to friends, family and strangers the writing produced to make sense of our reality.
Most of the writers who attend the A Voz Limpia sessions are torn between two or more cultures, languages and ways of perceiving the world. And frequently these seem impossible to marry but they eventually coexist (although perhaps not always in perfect harmony).
This anthology embraces this liminality, this wonderful yet convoluted marriage of cultures, languages and different ways of being.
As migrants, it is imperative to tell our stories not merely to make sense of who we are and where we stand but to redefine our place in the world.
Family and friends left behind, childhood homes, love and grief, loneliness but also moments of sheer joy and rediscovery appear in the pages of this book. Regrets, hopes and an analysis of our history and current political climate also appear in this anthology, providing a much-needed glimpse of multicultural Australia today.
Poets and storytellers at all stages of their writing careers took part in this anthology.
Although the landscape is changing, it is still difficult to find spaces for multilingual writers. Pilar and Eyal have been pioneers in Australia. Through A Voz Limpia they have helped many migrant writers discover their voice and showcase their work. And I hope they continue to create these opportunities with A Voz Limpia and their other projects, such as the bilingual anthology Foliaje 1, for many years to come.
Gracias Pilar y Eyal, una vez más, por crear este espacio tan necesario para la comunidad Latinx y por abrir las puertas a todos aquellos que escribimos para tratar de entender nuestra realidad, sentirnos más ligeros, sanar heridas o simplemente porque nos gusta saber que podemos crear mundos diferentes.»
Gabriella Munoz